Our T-Top Center-Console Storage-Curtains (Mooring Curtains)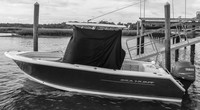 are a great, inexpensive alternative to the OEM Console-Cover and Helm Seat Cover. The Curtains connect to the underside of the T-Top frame and cover the entire Console, Helm Seat (or Leaning-Post) and Cooler Seat in front of the Console. These are perfect for mooring IN-WATER at a dock or marina:
Notes:

Elite® Top Notch® 9oz./sq.yd. 100% solution dyed (same color through threads rather than color on surface, so it won't fade) marine grade polyester fabric with a fluorocarbon UV protectant, water repellant coating is stronger than acrylics, won't sag or stretch, and is mildew resistant,
Full height (floor to T-Top) Zippers on Port AND Starboard sides for easy access,
Great alternative to Console-Cover and Leaning-Post Cover to cover entire console, front cooler seat and seat/leaning-post area,
Open slightly at top and bottom to breathe and help prevent mold and mildew,
Tie-down loops are sewn on the bottom of the curtain in the front and back,
Includes (4)each 10' webbing straps with snaps, which can either be a) snapped together into a longer strap and woven through all of the tie-down loops like a cinch draw rope, or b) attached to the bottom of the T-Top frame up front and the T-Top, seats or leaning post frame at the rear,
Unlike our popular, full TTopCover™ which is great for a trailer or lift, these Mooring Curtains are recommended for use In-Water.,
Made in Charleston, South Carolina, USA.




Size/Fit:

(Measured AT FLOOR, going around Helm Seat, Console, T-Top Frame and Seat or Cooler in front of T-Top),
Fits T-Tops from 72-inches to 86-inches Tall (simply adjust straps to floor length),
Attaches to bottom of T-Top frame (hangs down approx 2-6 inches to allow interior to breathe to help prevent mold and mildew) with built-in webbing buckle straps,
Ties down at bottom with (4) 10-foot webbing straps (included),
If you have a hard top with no attachment points, you may need SeaSucker™ suction cups at front or rear,
PICK by FLOOR AREA SIZE, FABRIC AND COLOR to PURCHASE,
NO RISK: IF YOU PICK THE WRONG SIZE, SIMPLY RETURN IT WITHIN 15 DAYS FOR A DIFFERENT SIZE.




Options:


Warranty: Manufacturer Limited Warranty. The Black and Navy Elite® 9 oz. fabric should last 5-9 years and has a 5-year Warranty. Grey Elite® 9 oz fabric should last 4-7 years and has a 4-year Warranty. Laportes® warrants to the original purchaser of its product that Laportes will repair or replace any products found to be defective in materials and workmanship for a period of one (1) year from the original purchase date. See full details at https://ttopcovers.com/warranty/.


Installation: Per T-Top Storage-Curtains Installation Guide:

Locate the royal blue 1-inch wide webbing strap and attach it under the T-Top front and center of the console (with adjustable snap buckles),
Continue around the T-Top connecting the remaining straps,
Secure the bottom of the cover using the four 10' webbing straps supplied. Often customers will snap 3 or 4 webbing straps together and weave them through the tie down loops and snap together on the side, securing it tight on the bottom,




Maintenance and Care: Canvas Care and Maintenance


Reviews: rated 4.9 / 5.0 based on 138 RNR-Marine™ customer reviews and 15 Better Business Bureau® reviews

★★★★★




Video Link: Videos/T-Top-Center-Console-Storage-Curtains.wmv


Lead-Time (Estimated): Lead time est. 1-3 weeks (TTopCovers and Curtains), 1-2 weeks (Shade Kits) from order finalization (as of 1/12/23)


Shipping Notes:

Signature required for delivery on orders over $500,
Can NOT ship to Post Office (PO) Box,
Can NOT change your address after order is placed,
Buyer is responsible for all Taxes, Duties and Tariffs imposed by local governments,
Use a US48 Based (in Florida, New Jersey or Oregon for example) Freight Forwarder to ship outside the USA or Canadian Provinces,
Check shipment for damage upon receipt and file claim with shipper.



International Shipments:

We do NOT ship T-Top-Center-Console-Storage-Curtains Outside North America (continental United States 48 States (US48) and Canadian Provinces), Overseas: Use a US-based Freight Forwarder,
Please contact a Freight Forwarder (instructions) with an address in the US48 (Florida preferred for timeliness) to ship this for you,
Also note that the Freight Forwarders address must be added to your Credit Card to complete payment.