Universal (non-OEM) Sunbrella® fabric Center Console Fishing Boat Cover

:
Notes: Carver® Styled-To-Fit™ Boat Covers are available for virtually every style of Center Console Fishing Boat with or without a T-Top, and will protect the entire boat from the sun's harmful and damaging UV rays, rain and bird poo:

This Trailerable boat cover must be properly installed and tied down (Tie Downs sold separately),
Sunbrella® fabric (the most durable, color-fast and long lasting marine fabric available) breathes to resist mold and mildew inside the cover (unlike polyester or vinyl covers which hold moisture in),
4-Ply join seams (no raw edges),
Double Stitch construction for added strength and durability,
Tie-Down Loops every 3-4 feet,
1/4" strong and durable Shock Cord encased into hem for a snug fit,
One piece cover with Motor Cover sewn into outboard model boat covers (some designs come with a separate motor cover),
Made-to-order and shipped from Carver® Covers, Inc. in South Carolina, USA.



Size/Fit:

Tie down loops sewn in the hem to secure the cover to your trailer (recommend Tie-Down Strap Kit for Trailer or Sand Bags (4 to 10) for Floats, Lifts or In-Water,


Measure and Verify:

Boat Center Line LENGTH (CLL) from tip of the bow (including a Pulpit) to the back of the boat's fiberglass transom or integrated swim platform (NOT to back of Outboard Motor),
BEAM (boat width),
Check Console HEIGHT (above),
This is NOT a factory OEM cover, so measure carefully because this cover is Made-To-Order and there are NO cancellations, refunds or returns.
Options:
V-Hull, Single Engine, NO Bow Rail Boat (V-Bow, No or Low (less than 3 inch high) Bow Rails, NO T-Top)
V-Hull, Single Engine, High Bow Rail Boat (V-Bow, NO T-Top)
V-Hull, Twin Engine, High Bow Rail Boat (V-Bow, NO T-Top)
#640xxA 30-inch Skirts protect sides of boat from UV damage,
#61001 (12) Tie-Down Straps and Bag for Trailer,
#61010 Sand Bags for Floats or Lifts,
#60000 Support Pole snaps into sewn-in pad(s) under cover,
Warranty: The materials and workmanship of this products are guaranteed by Carver(r) to be free of defects at time of manufacture and are covered by the Carver(r) https://www.carvercovers.com/about-carver/product-warranty-information/ limited warranties: Sunbrella: 10 years, Sun-Dura: 7 years, Performance Polyguard: 5 years. (Product warranties are listed on http://www.rnr-marine.com/Warranty.shtml).


Installation: Cover is rolled and packaged with the bow end of the cover to the outside.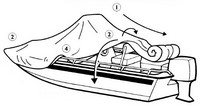 The tag on the bow end is sewn into the inside hem of the cover. To cover your boat, start at the bow and follow these instructions: Carver(r) Boat-Cover Installation Instructions.


Maintenance and Care:
Sunbrella® Canvas Care and Maintenance


© 2003-2019, RNR-Marine, Inc.
636G Long Point Road
Mount Pleasant, SC 29464
COMPUTER CCBot/2.0 (https://commoncrawl.org/faq/) 34.228.55.57 US