Purchase


Center Console Boat-Cover

Not what you need? Try

• Everything we have for Center-Console-Boat-Covers for these boats.
Universal (non-OEM) Sunbrella® Center Console Fishing Boat Cover

:
Notes: Carver® Styled-To-Fit™ covers for most styles of Center Console Boat with or without T-Top:

Trailerable boat cover must be properly installed and tied down,
Sunbrella® or Outdura® acrylic (the most durable, color-fast and long lasting marine fabric) breathes to resist mold and mildew (unlike polyester or vinyl),
4-Ply join seams (no raw edges),
Double Stitch construction for added strength and durability,
Tie-Down Loops every 3-4 feet,
1/4" Shock Cord in hem for a snug fit,
One piece cover for boat and O/B,
Made and shipped from Carver® Covers in USA.




Size/Fit:

This cover is NOT guaranteed to fit a specific year/make/model boat, so MEASURE CAREFULLY because this cover is made-to-order and there is a 25% restocking fee if it doesn't fit,
Sewn-in Motor Cover (some separate),
Tie down loops sewn in the hem to secure the cover to Trailer (recommend Tie-Down Strap Kit) or Sand Bags (4 to 10) for Floats, Lifts or In-Water,


Measure and Verify your Boat's:

Style/Rails/Tops/Seating,
Center Line LENGTH (CLL) from tip of the bow (including a Pulpit) to the back of the fiberglass transom or integrated swim platform (NOT to back of O/B Motor),
BEAM (width),
Console HEIGHT.
Options:
V-Hull, Single Engine, NO Bow Rail Boat (V-Bow, No or Low (less than 3 inch high) Bow Rails, NO T-Top)
V-Hull, Single Engine, High Bow Rail Boat (V-Bow, NO T-Top)
V-Hull, Twin Engine, High Bow Rail Boat (V-Bow, NO T-Top)
#640xxA 30-inch Skirts protect sides of boat from UV damage,
#61010 Sand Bags for Floats or Lifts,
#60000 Support Pole snaps into sewn-in pad(s),
Warranty: The materials and workmanship of this products are guaranteed by Carver® to be free of defects at time of manufacture and are covered by the Carver® https://www.carvercovers.com/about-carver/product-warranty-information/ limited warranties: Sunbrella®: 10 years, Sun-Dura™: 7 years, Performance Polyguard®: 5 years. The following will VOID warranty: 1) use of Bungee Cords instead of Tie-Down Straps, 2) use of Boat Cover In-Water (becuase the cover will stay wet). (Product warranties are listed on http://www.rnr-marine.com/Warranty.shtml).


Installation: Cover rolled and packaged with the bow end of the cover to the outside.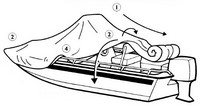 Unroll cover from Bow (Tag is inside Bow end of cover) per:Carver® Boat-Cover Installation Instructions.


Maintenance and Care:
Sunbrella® Canvas Care and Maintenance


© 2003-2022, RNR-Marine, Inc.
636G Long Point Road
Mount Pleasant, SC 29464
COMPUTER CCBot/2.0 (https://commoncrawl.org/faq/) 54.224.117.125 US