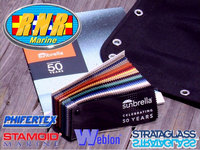 Sea Ray®

Factory
Original-Equipment-Manufacturer (OEM)


Canvas and Cover Options Great Lakes 100% Guarantee

We [Great Lakes® and RNR-Marine™] guarantee our mooring covers, bow covers, cockpit covers, bimini tops, camper tops, and other marine canvas enclosures:
Will fit your boat to the specs provided
Will match your existing Great Lakes canvas
Will perform as described when installed properly
Will completely satisfy you with the quality and construction
You can count on all of the above or else we'll replace the boat top or enclosure or give you your money back. Your boat is a large investment so be sure you protect it with the best marine canvas direct from the factory by Great Lakes Boat Top® and RNR-Marine™.

RNR-Marine™ is a leading dealer for Great Lakes Boat Top Company® and Ameritex® Fabrics, the factory OEM Canvas Manufacturers for Sea Ray® boats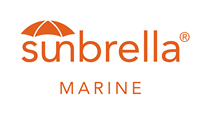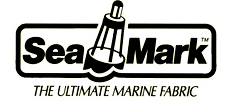 Click for larger views ...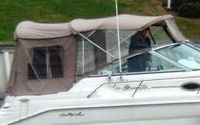 Sea Ray®

Factory Original-Equipment

OEM Bimini-Top

(varies

$385

to

$1,691

(Email for price) - $732.00 , SALE PRICE:

$622.20

(January Jumpstart 15% Off Sale)),

OEM Bimini-Top Enclosure-Curtains

(varies

$270 to

$1,336 (Email for price)),

OEM Bimini-Top Side-Curtains

(varies

$232 to

$1,202 (Email for price) - $464.75 , SALE PRICE:

$371.80 (Black Friday Sale thru 11/29)),

OEM Sunshade

(mounts to rear of Radar Arch: varies

$290 to

$1,233 (Email for price) replacement canvas; varies

$544 to

$1,569 (Email for price) for Frame with Canvas),

OEM Camper-Top

(attaches to Sunshade: varies

$364 to

$2,048 (Email for price) replacement canvas; Price varies for Frame with Canvas),

OEM Camper-Top Side-Curtains

(varies

$328 to

$1,319 (Email for price)) and

OEM Camper-Top Aft-Curtain

(varies

$232 to

$1,182 (Email for price)) shown on
1999 Sea Ray® 270 Sundancer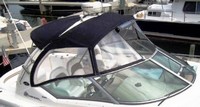 Sea Ray®

Factory Original-Equipment

OEM Bimini-Top

(varies

$385

to

$1,691

(Email for price) - $732.00 , SALE PRICE:

$622.20

(January Jumpstart 15% Off Sale)),

OEM Bimini-Top Side-Curtains

(varies

$232 to

$1,202 (Email for price) - $464.75 , SALE PRICE:

$371.80 (Black Friday Sale thru 11/29)),

OEM Sunshade

(mounts to rear of Radar Arch: varies

$290 to

$1,233 (Email for price) replacement canvas; varies

$544 to

$1,569 (Email for price) for Frame with Canvas) shown on
2005 Sea Ray® 340 Sundancer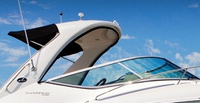 Sea Ray®

Factory Original-Equipment

OEM Sunshade

(mounts to rear of Radar Arch: varies

$290 to

$1,233 (Email for price) replacement canvas; varies

$544 to

$1,569 (Email for price) for Frame with Canvas) shown on
2013 Sea Ray® 330 Sundancer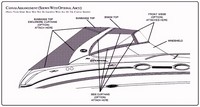 Sea Ray® Sport Cruisers Canvas Arrangement with Optional Arch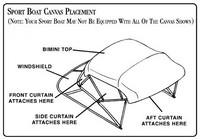 Sea Ray® Sport Boats Bimini-Top Canvas-Placement-Diagram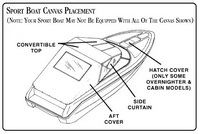 Sea Ray® Sport Boats Convertible-Top Canvas-Placement-Diagram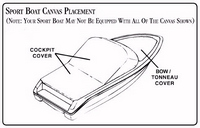 Sea Ray® Sport Boats Cover Placement-Diagram
... Click for larger views