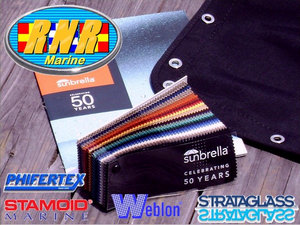 When you're not using your boat, its nice to protect its gel-coat finish, canvas, carpets, vinyl upholstery, electronics and woodwork from the sun, harmful UV rays, rain, dust, dirt (and people). Good quality covers extend the beauty, operation and longevity of your boat by years - keeping your boat "like new" as long as possible and retaining the boat's value. There are a lot of different covers for boats.
Many boat manufacturers offer custom fit covers as original equipment on their boats. The covers are made for the boat manufacturer by an Original-Equpment-Manufacturer (OEM) and sold with the boat by the boat dealer. The boat dealer is usually able to provide the factory orignal cover for your boat from the boat manufacturer (or OEM) when its new and for several years thereafter. After a few years, many dealers no longer carry or have access to the OEM covers (or the dealer or boat manufacturer may have closed or not be close by).
RNR-Marine™
offers the OEM covers

for literally hundreds of thousands of boat models back to the 1990s - available online for purchase and shipping within ten business days. All of our covers are made in the USA (and always has been) using American made fabrics.
RNR-Marine® also offers custom after-market boat, motor and storage covers for tens of thousands of boat models for those unique situations requiring a special cover (
TTopCovers
® for example) or where a particular cover was not even offered by the boat manufacturer as original equipment (
Center Console Storage Curtains
for example).
It is important that covers are made from a fabric that can "breath" to avoid mold and mildew inside the cover. Our covers are made from
Sunbrella®, Elite®, Weathermax® and Sharkskin® fabrics
, each suited to different needs, conditions, costs and longevity. Since covers protect your boat from the sun, rain and dirt, they do require occassional
cleaning and care
to retain their original look.
We thank you for taking the time to look over our cover offerings. If you don't find what you're looking for, simply
Email us
and we'll help you out!