Brand New, Factory Original-Equipment (OEM) Boat Canvas and Covers!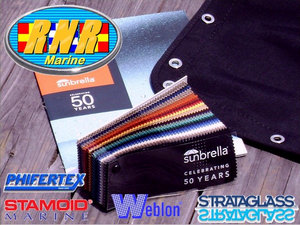 This is the
Factory Original-Equipment-Manufacturer (OEM) Canvas
offered from the factory (or through your boat dealer) with your year/model boat. Our OEM manufacturers made that canvas, and we have the patterns to
make brand new canvas to your specific order
(any color and trim) using brand new Sunbrella®, Weblon®, Stamoid®, Aqualon® or Vinyl marine fabric. We have the exact Factory (OEM) pattern (we have 1,000's of patterns) that was originally used to make the Factory Original-Equipment canvas for a perfect fit. Many canvas shops offer "factory replacement canvas", but they do NOT have the original factory patterns like we do - they usually take your old canvas (which we made to begin with) and try to copy it.

All of our canvas is made in the USA (and always has been) using American made fabrics.
RNR-Marine™ is a dealer for the OEM manufacturers who made most of the original canvas for the boats and yachts below when they were new and we have the Factory OEM Canvas and Cover patterns to make new canvas, to-order for you. If you don't see your exact model or year, please email (part number on existing canvas is very helpful) to check our pattern archive, as we have 1,000's of unlisted patterns or may know where to get your canvas.
Buy Direct over the Internet and Save 5-12% Sales Tax!


Most canvas is made-to-order and ships in 7-10 working days
(check your cart for actual lead time)
Click photos
to enlarge ...
Canvas Products

---


Sea Boss 235CC Factory T-Top


Boston Whaler 220 Outrage OEM T-Top
Factory Original-Equipment (OEM) T-Top Replacement Canvas: Factory OEM replacement canvas for Factory OEM T-Top frame only. (click image(s) at left for larger picture)

Laces on in about 45 minutes with Lacing Cord (provided).
Installation: Lacing Cord provided , Lacing Instructions
Pick your Boat:

OEM for some Baha Cruisers®, Cobia®, Everglades®, Glassmaster®, Key West®, McKee Craft®, Palmetto Custom®, Pioneer®, Sea Boss®, Sea Fox®, Sea Hunt®, Sea-Pro® and Tidewater® boats , Baja®, Bayliner®, Boston Whaler®, Champion®, Edgewater®, Grady White®, Mako®, Nautic Star®, Pro Sports®, PROCraft®, Scout®, Sea Ray®, Stratos® and Triton® boats , Aquasport®, Astro®, Baja®, Blue Point®, BostonWhaler®, Cape Horn®, Carolina Skiff®, Century®, Champion®, Chris Craft®, Donzi®, Duroboat®, Ebbtide®, Edgewater®, Fincraft®, Fineline®, Fish Hawk®, Four Winns®, Glastron®, HydraSports®, Jettus®, Larson®, Mako®, Marada®, Metal Shark®, Polar®, Polaris®, Premier Marine®, Pro Line®, Procraft®, Pursuit®, Ranger®, Rizebo®, Robalo®, Sailfish (Seminole Marine)®, Scout®, Sea-Pro®, Sea Ray®, Seaswirl®, Skeeter®, SmokerCraft®, Southwinds®, Starcraft®, Stealth®, Stratos®, Suncountry®, Sundance®, Tracker®, Triton®, Triumph®, Trophy®, Weeres Palm Beach®, Wellcraft® and World Class®

---


Sea Hunt Triton 240 Spray-Shield


Boston Whaler 270 Outrage T-Top Front Visor


Boston Whaler 270 Outrage T-Top Visor with Side Curtains
Factory Original-Equipment (OEM) T-Top Spray-Shield: One or three-sided, windowed factory OEM canvas for the front and sides of your Factory OEM T-Top (only) provides protection from spray, wind, rain and cold. (click image(s) at left for larger picture)

Snaps to T-Top frame with Stainless Steel Snap-Stud-Screws. Snaps are installed on some canvas, and can be left off of all canvas to allow for precise installation when replacing existing canvas where there are already snaps on the boat.
Installation: Stainless Steel Snap-Screws (provided) , May use Bungee Balls in some cases (provided if needed) , Snap Installation Tool (optional)
Pick your Boat:

OEM for some Baha Cruisers®, Cobia®, Everglades®, Glassmaster®, Key West®, McKee Craft®, Palmetto Custom®, Pioneer®, Sea Boss®, Sea Fox®, Sea Hunt®, Sea-Pro® and Tidewater® boats , Baja®, Bayliner®, Boston Whaler®, Champion®, Edgewater®, Grady White®, Mako®, Nautic Star®, Pro Sports®, PROCraft®, Scout®, Sea Ray®, Stratos® and Triton® boats , Aquasport®, Astro®, Baja®, Blue Point®, BostonWhaler®, Cape Horn®, Carolina Skiff®, Century®, Champion®, Chris Craft®, Donzi®, Duroboat®, Ebbtide®, Edgewater®, Fincraft®, Fineline®, Fish Hawk®, Four Winns®, Glastron®, HydraSports®, Jettus®, Larson®, Mako®, Marada®, Metal Shark®, Polar®, Polaris®, Premier Marine®, Pro Line®, Procraft®, Pursuit®, Ranger®, Rizebo®, Robalo®, Sailfish (Seminole Marine)®, Scout®, Sea-Pro®, Sea Ray®, Seaswirl®, Skeeter®, SmokerCraft®, Southwinds®, Starcraft®, Stealth®, Stratos®, Suncountry®, Sundance®, Tracker®, Triton®, Triumph®, Trophy®, Weeres Palm Beach®, Wellcraft® and World Class®

---


Gull-Wings zipped on Spray-Shield of McKee Marathon 196CC
Factory Original-Equipment (OEM) T-Top Gull-Wings: Pair of flexible Factory OEM window panels (fabric from waist level down typically) extends Spray-Shield protection out to boat gunwales from T-Top down to floor (typically). (click image(s) at left for larger picture)

Zips to Factory OEM Spray-Shield (Only) and attaches to gunwales with knobs (provided) and bungee balls typically.
Pick your Boat:

OEM for some Baha Cruisers®, Cobia®, Everglades®, Glassmaster®, Key West®, McKee Craft®, Palmetto Custom®, Pioneer®, Sea Boss®, Sea Fox®, Sea Hunt®, Sea-Pro® and Tidewater® boats , Baja®, Bayliner®, Boston Whaler®, Champion®, Edgewater®, Grady White®, Mako®, Nautic Star®, Pro Sports®, PROCraft®, Scout®, Sea Ray®, Stratos® and Triton® boats

---


Sea Hunt Triton Factory Gear-Net


Boston Whaler 320 Outrage Life-Jacket-Storage
Factory Original-Equipment (OEM) Gear-Net and Lifejacket-Storage: Factory OEM Gear-Net or Lifejacket Storage Bag stores 4-6 PFD life preservers, towels or other light gear. (click image(s) at left for larger picture)

Pick your Boat:

OEM for some Baha Cruisers®, Cobia®, Everglades®, Glassmaster®, Key West®, McKee Craft®, Palmetto Custom®, Pioneer®, Sea Boss®, Sea Fox®, Sea Hunt®, Sea-Pro® and Tidewater® boats , Astro®, Baja®, Bayliner®, Bombardier®, Boston Whaler®, Centurion®, Champion®, Cobalt®, Edgewater®, Four Winns®, Gecko®, Grady White®, Hurricane by Godfrey®, Mako®, Malibu®, MasterCraft®, Maxum®, Monterey®, Moomba®, Nautic Star®, Pro Sports®, PROCraft®, Regal®, Scout®, Sea-Doo®, Sea Ray®, Stratos®, Sugar Sands®, Supra®, Tahoe®, Tige®, Triton®, Triton Pontoons® and Yamaha® , Aquasport®, Astro®, Baja®, Blue Point®, BostonWhaler®, Cape Horn®, Carolina Skiff®, Century®, Champion®, Chaparral®, Chris Craft®, Correct Craft®, Crownline®, Donzi®, Duroboat®, Ebbtide®, Edgewater®, Envision®, Fincraft®, Fineline®, Fish Hawk®, Formula®, Tige®, Four Winns®, Glastron®, Godfrey®, Gulfwinds®, Hurricane® and HydraSports®, JC Pontoon®, Jettus®, Larson®, Mako®, Marada®, Mastercraft®, Metal Shark®, Monterey®, Polar®, Polaris®, Premier Marine®, Pro Line®, Procraft®, Pursuit®, Ranger®, Regal®, Rinker®, Rizebo®, Robalo®, Sailfish®, Scout®, Sea-Pro®, Sea Ray®, Seaswirl®, Seminole Marine®, Skeeter®, Skiers Choice®, SmokerCraft®, Southwinds®, Starcraft®, Stealth®, Stratos®, Suncountry®, Sundance®, Thunderbird®, Tige®, Tracker®, Triton®, Triumph®, Trophy®, Weeres Palm Beach®, Wellcraft®, World Class®, Xtreme Marine®, Yamaha®

---


Boat Shade Kit adds 20-30 Square-Feet of shade to typical Center Console


Can be mounted in front as well


Boat Shade Kit can also be used as a Bow Spray Dodger if a storm blows up
Boat Shade Kit: Attaches to T-Top, Hard-Top or Flybridge to add 20-100 Square Feet of additional Shade to Bay, Center Console, Walk-Around and Sport Fish boats. Available in 4 sizes or custom made for Sport Fishers. Perfect for keeping the family out of the sun, and easily removed and stowable for fishing or cruising. Includes 42" storage bag. (click image(s) at left for larger picture)

Simply attach to front or rear of T-Top, Hard-Top or Saloon and stretch to rails or telescoping anodized aluminum poles inserted in rear rod holders … in just minutes.
Boat-Shade-Kit

RNR-Marine

's T-Top Boat Shade Kit connects to front (like a bow dodger) or rear (covers the cockpit) of T-Top or Hard-Top frame to provide extra shade Fore or Aft. Provides an additional 20-100 Square Feet of shade on most Bay, 20-40 foot Center Console, Walk-Around or Sport Fish boats with a Beam of 9-1/2 foot or less and 2 Rod Holders on the gunwales at the rear of the boat , available in Black Resilience™ stretch material with quadruple reflective coating on the topside to help keep you cool and does not sag like traditional canvas. As used by the Armed Forces to protect gear in the dessert. As seen at the 2013 Miami Boat Show.. price: Click to pick

$505

to

$819

(Email for price)
Boat-Shade-Kit-5x4

RNR-Marine

's T-Top/Hard-Top Boat Shade Kit, "A-Class", 5-ft Wide x 4-ft Long (20 Square Feet, stretches up to 7Wx6L) for most Bay, 18-25 foot Center Console and most Walk-Around, Cuddy or Express boats with a Beam of 9-1/2 foot or less with 2 Rod Holders on the gunwales at the rear of the boat , available in Black Resilience™ stretch material with quadruple reflective coating on the topside to help keep you cool and does not sag like traditional canvas. As used by the Armed Forces to protect gear in the dessert. As seen at the 2013 Miami Boat Show.. price:

$505.00

Boat-Shade-Kit-5x4-Tapered

RNR-Marine

's T-Top/Hard-Top Boat Shade Kit, "A-Class-Tapered", 50-inches wide at front, 60-inches wide at rear x 4-ft Long (19 Square Feet, stretches up to 6.5Wx6L) for most smaller Bay, Center Console and most Walk-Around, Cuddy or Express boats with a narrow width (52-60") T-Top or Hard-Top frame, a Beam of 9-1/2 foot or less and 2 Rod Holders on the gunwales at the rear of the boat , available in Black Resilience™ stretch material with quadruple reflective coating on the topside to help keep you cool and does not sag like traditional canvas. As used by the Armed Forces to protect gear in the dessert. As seen at the 2013 Miami Boat Show.. price:

$505.00

Boat-Shade-Kit-5x5

RNR-Marine

's T-Top/Hard-Top Boat Shade Kit, "B-Class", 5-ft wide x 5-ft long (25 Square Feet, stretches up to 7Wx7L) for larger Bay, 20-40 foot Center Console and many Walk-Around, Cuddy and Express boats with a Beam of 9-1/2 foot or less and 2 Rod Holders on the gunwales at the rear of the boat , available in Black Resilience™ stretch material with quadruple reflective coating on the topside to help keep you cool and does not sag like traditional canvas. As used by the Armed Forces to protect gear in the dessert. As seen at the 2013 Miami Boat Show.. price:

$555.00

Boat-Shade-Kit-5x6

RNR-Marine

's T-Top/Hard-Top Boat Shade Kit, "C-Class", 5-ft wide x 6-ft long (30 Square Feet, stretches up to 7Wx8L) for large 28-40 foot Center Console, Walk-Around, Cuddy and Express boats with a Beam of 9-1/2 foot or less with 2 Rod Holders on the gunwales at the rear of the boat , available in Black Resilience™ stretch material with quadruple reflective coating on the topside to help keep you cool and does not sag like traditional canvas. As used by the Armed Forces to protect gear in the dessert. As seen at the 2013 Miami Boat Show.. price:

$655.00

Boat-Shade-Kit-9x5

RNR-Marine

's T-Top/Hard-Top Boat Shade Kit, "Ultimate", 9-ft wide x 5-ft long (45 Square Feet, stretches up to 11Wx7L) for Wide 28-50 foot Cuddy, Express and Sportfish boats with Full-Width Hard-Tops and a Beam of 9 foot or more with 2 Rod Holders on the gunwales at the rear of the boat , available in Black Resilience™ stretch material with quadruple reflective coating on the topside to help keep you cool and does not sag like traditional canvas. As used by the Armed Forces to protect gear in the dessert. As seen at the 2013 Miami Boat Show.. price:

$945.00

Boat-Shade-Kit-Bimini

RNR-Marine

's *** COMING SOON *** Boat Shade Kit for Bimini-Top on most Bow-Rider, Dual-Console, Walk-Around, Cuddy or Express boats with a Beam of 9-1/2 foot or less and 2 Rod Holders on the gunwales at the rear of the boat , available in Black Resilience™ stretch material with quadruple reflective coating on the topside to help keep you cool and does not sag like traditional canvas. As used by the Armed Forces to protect gear in the dessert. As seen at the 2013 Miami Boat Show.. price: Price varies
Boat-Shade-Kit-Custom

RNR-Marine

's T-Top Boat Shade Kit Custom fit to Sport Fish boat, connects to Front or Rear of T-Top or Hard-Top frame to provide extra shade Fore or Aft , available in Black Resilience™ stretch material with quadruple reflective coating on the topside to help keep you cool and does not sag like traditional canvas. As used by the Armed Forces to protect gear in the dessert. As seen at the 2013 Miami Boat Show.. price: Price varies
Boat-Shade-Canvas-Only-5x4

RNR-Marine

's T-Top Boat Shade, Canvas only (no poles), 5-ft Wide x 4-ft Long usable as Bow Spray Dodger , available in Black Resilience™ stretch material with quadruple reflective coating on the topside to help keep you cool and does not sag like traditional canvas. As used by the Armed Forces to protect gear in the dessert. As seen at the 2013 Miami Boat Show.. price:

$280.00

Boat-Shade-Canvas-Only-5x5

RNR-Marine

's T-Top Boat Shade, Canvas only (no poles), 5-ft Wide x 5-ft Long usable as Bow Spray Dodger , available in Black Resilience™ stretch material with quadruple reflective coating on the topside to help keep you cool and does not sag like traditional canvas. As used by the Armed Forces to protect gear in the dessert. As seen at the 2013 Miami Boat Show.. price:

$330.00

Boat-Shade-Canvas-Only-5x6

RNR-Marine

's T-Top Boat Shade, Canvas only (no poles), 5-ft Wide x 6-ft Long usable as Bow Spray Dodger , available in Black Resilience™ stretch material with quadruple reflective coating on the topside to help keep you cool and does not sag like traditional canvas. As used by the Armed Forces to protect gear in the dessert. As seen at the 2013 Miami Boat Show.. price:

$430.00

Boat-Shade-Poles

RNR-Marine

's One Replacement telescoping pole for Boat Shade Kit price:

$139.00

SeaSucker-Vacuum-Mount-4.5

RNR-Marine

's The 4½" SeaSucker® vacuum cup is rated to pull up to 120 pounds. Two slotted holes for back-plating accessories or mounting hardware and one center stainless steel insert for mounting anything with a standard ¼-20 machine screw price:

$39.00

---


Bosto Whaler 220 Outrage OEM Leaning Post Cover


Boston Whaler 190 Outrage Pedestal Seat Covers
Factory Original-Equipment (OEM) Leaning-Post Cover, Pedestal-Seat, Reversible-Pilot-Seat (RPS) and Stern-Seat Covers: Covers Factory OEM Leaning-Post or Seats (click image(s) at left for larger picture)

Pick your Boat:

OEM for some Baja®, Bayliner®, Boston Whaler®, Champion®, Edgewater®, Grady White®, Mako®, Nautic Star®, Pro Sports®, PROCraft®, Scout®, Sea Ray®, Stratos® and Triton® boats

---


Leaning Post Storage Bag on Sea Hunt Triton, Ultra or BX
Factory Original-Equipment (OEM) Leaning-Post Bag: Bag behind Leaning Post stores tackle, suntan lotion or other gear. (click image(s) at left for larger picture)

Pick your Boat:

OEM for some Baha Cruisers®, Cobia®, Everglades®, Glassmaster®, Key West®, McKee Craft®, Palmetto Custom®, Pioneer®, Sea Boss®, Sea Fox®, Sea Hunt®, Sea-Pro® and Tidewater® boats

---


Mariah Factory OEM Convertible Top
Factory Original-Equipment (OEM) Convertible-Top Frames and Replacement Canvas: Factory OEM Convertble-Top (attaches to windshield) Frame and Canvas or Replacement Canvas. Most are zippered at the sides and rear for the optional Side and Aft Curtains below. (click image(s) at left for larger picture)

Frame fits specified boat only. Canvas fits Factory OEM frame only. Boots included or available for most models. Snaps are installed on some canvas, and can be left off of all canvas to allow for precise installation when replacing existing canvas where there are already snaps on the boat.
Pick your Boat:

OEM for some Baha Cruisers®, Caravelle®, Cobia®, Everglades®, Glassmaster®, Key West®, Mariah®, McKee Craft®, Palmetto Custom®, Pioneer®, Sea Boss®, Sea Fox®, Sea Hunt®, Sea-Pro® and Tidewater®
Bimini-Convertible-Top-Support-Poles-AL-NY-W

RNR-Marine

's Westland® H70A Bimini Rear Strut Brace-Aluminum Tubing w/Nylon Fittings: Pair of Aluminum Rear Support Poles for Bimini or Convertible Top with Black Nylon Fittings price:

$49.00

Bimini-Convertible-Top-Support-Poles-SS-SS-W

RNR-Marine

's Westland® H70S Bimini Rear Strut Brace-Stainless Steel Tubing w/Stainless Steel Fittings: Pair of Stainless Steel Rear Support Poles for Bimini or Convertible Top with Stainless Steel Fittings price:

$136.00

, Astro®, Baja®, Bayliner®, Bombardier®, Boston Whaler®, Centurion®, Champion®, Cobalt®, Edgewater®, Four Winns®, Gecko®, Grady White®, Hurricane by Godfrey®, Mako®, Malibu®, MasterCraft®, Maxum®, Monterey®, Moomba®, Nautic Star®, Pro Sports®, PROCraft®, Regal®, Scout®, Sea-Doo®, Sea Ray®, Stratos®, Sugar Sands®, Supra®, Tahoe®, Tige®, Triton®, Triton Pontoons® and Yamaha®
Bimini-Convertible-Top-Support-Poles-AL-NY-W

RNR-Marine

's Westland® H70A Bimini Rear Strut Brace-Aluminum Tubing w/Nylon Fittings: Pair of Aluminum Rear Support Poles for Bimini or Convertible Top with Black Nylon Fittings price:

$49.00

Bimini-Convertible-Top-Support-Poles-SS-SS-W

RNR-Marine

's Westland® H70S Bimini Rear Strut Brace-Stainless Steel Tubing w/Stainless Steel Fittings: Pair of Stainless Steel Rear Support Poles for Bimini or Convertible Top with Stainless Steel Fittings price:

$136.00

Bimini-Convertible-Top-Support-Poles-AL-NY-W

RNR-Marine

's Westland® H70A Bimini Rear Strut Brace-Aluminum Tubing w/Nylon Fittings: Pair of Aluminum Rear Support Poles for Bimini or Convertible Top with Black Nylon Fittings price:

$49.00

---


Mariah Factory OEM Bimini Top


Boston Whaler 200 Dauntless OEM Bimini Top


Grady White Sportsman 180 Factory Bimini Top
Factory Original-Equipment (OEM) Bimini-Top Frames and Replacement Canvas: Factory OEM Bimini-Top (Taller than Convertble Top with a 12-36 inch gap between windshield and top) Frame and Canvas or Replacement Canvas. Bimini Tops for Walk-Arounds, Cuddys, Dual-Consoles and Bow Riders have Zippers along the front, sides and rear to attach the optional Front, Side and Aft Curtains below. (click image(s) at left for larger picture)

Frame fits specified boat only. Canvas fits Factory OEM frame only. Boots included or available for most models.
Pick your Boat:

OEM for some Baha Cruisers®, Caravelle®, Cobia®, Everglades®, Glassmaster®, Key West®, Mariah®, McKee Craft®, Palmetto Custom®, Pioneer®, Sea Boss®, Sea Fox®, Sea Hunt®, Sea-Pro® and Tidewater®
Bimini-Convertible-Top-Support-Poles-AL-NY-W

RNR-Marine

's Westland® H70A Bimini Rear Strut Brace-Aluminum Tubing w/Nylon Fittings: Pair of Aluminum Rear Support Poles for Bimini or Convertible Top with Black Nylon Fittings price:

$49.00

Bimini-Convertible-Top-Support-Poles-SS-SS-W

RNR-Marine

's Westland® H70S Bimini Rear Strut Brace-Stainless Steel Tubing w/Stainless Steel Fittings: Pair of Stainless Steel Rear Support Poles for Bimini or Convertible Top with Stainless Steel Fittings price:

$136.00

, Astro®, Baja®, Bayliner®, Bombardier®, Boston Whaler®, Centurion®, Champion®, Cobalt®, Edgewater®, Four Winns®, Gecko®, Grady White®, Hurricane by Godfrey®, Mako®, Malibu®, MasterCraft®, Maxum®, Monterey®, Moomba®, Nautic Star®, Pro Sports®, PROCraft®, Regal®, Scout®, Sea-Doo®, Sea Ray®, Stratos®, Sugar Sands®, Supra®, Tahoe®, Tige®, Triton®, Triton Pontoons® and Yamaha® , Aquasport®, Astro®, Baja®, Blue Point®, BostonWhaler®, Cape Horn®, Carolina Skiff®, Century®, Champion®, Chaparral®, Chris Craft®, Correct Craft®, Crownline®, Donzi®, Duroboat®, Ebbtide®, Edgewater®, Envision®, Fincraft®, Fineline®, Fish Hawk®, Formula®, Tige®, Four Winns®, Glastron®, Godfrey®, Gulfwinds®, Hurricane® and HydraSports®, JC Pontoon®, Jettus®, Larson®, Mako®, Marada®, Mastercraft®, Metal Shark®, Monterey®, Polar®, Polaris®, Premier Marine®, Pro Line®, Procraft®, Pursuit®, Ranger®, Regal®, Rinker®, Rizebo®, Robalo®, Sailfish®, Scout®, Sea-Pro®, Sea Ray®, Seaswirl®, Seminole Marine®, Skeeter®, Skiers Choice®, SmokerCraft®, Southwinds®, Starcraft®, Stealth®, Stratos®, Suncountry®, Sundance®, Thunderbird®, Tige®, Tracker®, Triton®, Triumph®, Trophy®, Weeres Palm Beach®, Wellcraft®, World Class®, Xtreme Marine®, Yamaha®

---


Sea Pro 210WA Bimini-Spray-Shield


Boston Whaler 28 Conquest Hard-Top Visor and Side Curtains


Baha Cruisers 340 King Cat Flybridge Spray-Shield
Factory Original-Equipment (OEM) Hard or Bimini Top Spray-Shield (Visor): Front, flexible window panel(s) fit between Hard or Bimini Top and Windshield for Dual Consoles, Bow-Rider, Walk Around, Cuddy Cabin, Express and Flybridge boats. (click image(s) at left for larger picture)

Attaches to Factory OEM Bimini with Zippers or Factory OEM Hard-Top with PVC-Core-Awning-Rope to Flex-A-Rail type track (included if needed) or existing track(s). Typically snaps to top of Factory windshield with clip-on snaps (or track). Will NOT fit non-Factory-OEM tops or windshields. Snaps are installed on some canvas, and can be left off of all canvas to allow for precise installation when replacing existing canvas where there are already snaps on the boat.
Installation: PVC Core Awning-Rope (sewn into canvas) , Flex-A-Rail (included as needed) , Stainless Steel Snap-Screws (included) , Snap Installation Tool (optional)
Pick your Boat:

OEM for some Baha Cruisers®, Caravelle®, Cobia®, Everglades®, Glassmaster®, Key West®, Mariah®, McKee Craft®, Palmetto Custom®, Pioneer®, Sea Boss®, Sea Fox®, Sea Hunt®, Sea-Pro® and Tidewater® , Astro®, Baja®, Bayliner®, Bombardier®, Boston Whaler®, Centurion®, Champion®, Cobalt®, Edgewater®, Four Winns®, Gecko®, Grady White®, Hurricane by Godfrey®, Mako®, Malibu®, MasterCraft®, Maxum®, Monterey®, Moomba®, Nautic Star®, Pro Sports®, PROCraft®, Regal®, Scout®, Sea-Doo®, Sea Ray®, Stratos®, Sugar Sands®, Supra®, Tahoe®, Tige®, Triton®, Triton Pontoons® and Yamaha® , Aquasport®, Astro®, Baja®, Blue Point®, BostonWhaler®, Cape Horn®, Carolina Skiff®, Century®, Champion®, Chaparral®, Chris Craft®, Correct Craft®, Crownline®, Donzi®, Duroboat®, Ebbtide®, Edgewater®, Envision®, Fincraft®, Fineline®, Fish Hawk®, Formula®, Tige®, Four Winns®, Glastron®, Godfrey®, Gulfwinds®, Hurricane® and HydraSports®, JC Pontoon®, Jettus®, Larson®, Mako®, Marada®, Mastercraft®, Metal Shark®, Monterey®, Polar®, Polaris®, Premier Marine®, Pro Line®, Procraft®, Pursuit®, Ranger®, Regal®, Rinker®, Rizebo®, Robalo®, Sailfish®, Scout®, Sea-Pro®, Sea Ray®, Seaswirl®, Seminole Marine®, Skeeter®, Skiers Choice®, SmokerCraft®, Southwinds®, Starcraft®, Stealth®, Stratos®, Suncountry®, Sundance®, Thunderbird®, Tige®, Tracker®, Triton®, Triumph®, Trophy®, Weeres Palm Beach®, Wellcraft®, World Class®, Xtreme Marine®, Yamaha®

---


Side-Curtains on Cobia 312 Sport Cabin


Boston Whaler 28 Conquest Hard-Top Side Curtains


Sea Ray 340 Sundancer Bimini-Top, Bimini-Top-Side-Curtains and Sunshade-Top
Factory Original-Equipment (OEM) Side-Curtains: Pair of flexible window panels (for both sides of boat) enclose sides of Walk-Around, Dual-Console, Bow-Rider, Cuddy-Cabin or Express boat cockpit areas. Also referred to as Bimini-Top-Enclosure-Curtains. (click image(s) at left for larger picture)

Typically zips or Velcros to the Factory OEM Front-Spray-Shield (Visor, above). Zips on OEM Bimini or slides in track of the Factory OEM Hard Top. Snaps to the side of the boat with Stainless-Steel Snap-Stud-Screws. Snaps are installed on some canvas, and can be left off of all canvas to allow for precise installation when replacing existing canvas where there are already snaps on the boat.
Installation: PVC Core Awning-Rope (sewn into canvas) , Flex-A-Rail (included as needed) , Stainless Steel Snap-Screws (included) , Snap Installation Tool (optional)
Pick your Boat:

OEM for some Baha Cruisers®, Caravelle®, Cobia®, Everglades®, Glassmaster®, Key West®, Mariah®, McKee Craft®, Palmetto Custom®, Pioneer®, Sea Boss®, Sea Fox®, Sea Hunt®, Sea-Pro® and Tidewater® , Astro®, Baja®, Bayliner®, Bombardier®, Boston Whaler®, Centurion®, Champion®, Cobalt®, Edgewater®, Four Winns®, Gecko®, Grady White®, Hurricane by Godfrey®, Mako®, Malibu®, MasterCraft®, Maxum®, Monterey®, Moomba®, Nautic Star®, Pro Sports®, PROCraft®, Regal®, Scout®, Sea-Doo®, Sea Ray®, Stratos®, Sugar Sands®, Supra®, Tahoe®, Tige®, Triton®, Triton Pontoons® and Yamaha® , Aquasport®, Astro®, Baja®, Blue Point®, BostonWhaler®, Cape Horn®, Carolina Skiff®, Century®, Champion®, Chaparral®, Chris Craft®, Correct Craft®, Crownline®, Donzi®, Duroboat®, Ebbtide®, Edgewater®, Envision®, Fincraft®, Fineline®, Fish Hawk®, Formula®, Tige®, Four Winns®, Glastron®, Godfrey®, Gulfwinds®, Hurricane® and HydraSports®, JC Pontoon®, Jettus®, Larson®, Mako®, Marada®, Mastercraft®, Metal Shark®, Monterey®, Polar®, Polaris®, Premier Marine®, Pro Line®, Procraft®, Pursuit®, Ranger®, Regal®, Rinker®, Rizebo®, Robalo®, Sailfish®, Scout®, Sea-Pro®, Sea Ray®, Seaswirl®, Seminole Marine®, Skeeter®, Skiers Choice®, SmokerCraft®, Southwinds®, Starcraft®, Stealth®, Stratos®, Suncountry®, Sundance®, Thunderbird®, Tige®, Tracker®, Triton®, Triumph®, Trophy®, Weeres Palm Beach®, Wellcraft®, World Class®, Xtreme Marine®, Yamaha®

---


Aft-Drop-Curtin on Sea Hunt Victory Walk-Around


Boston Whaler 295 Conquest Hard-Top Side and Aft Curtains


Baha Cruisers Aft Transom Curtain
Factory Original-Equipment (OEM) Aft-Curtain: Flexible windowed fabric panels with zippered door at the rear form a fully enclosed helm. Models (most to floor) for Bimini, Convertible or Hard Tops. Aft-Drop-Curtains extend down to floor at back of Helm or Flybridge area. Aft-Transom-Curtains extend back to transom to enclose entire cockpit area. (click image(s) at left for larger picture)

Typically attaches to the Factory OEM Bimini or Convertible Canvas (only) with Zippers, or Factory OEM Hard-Top (only) with PVC-Core-Awning-Rope to Flex-A-Rail (included) or existing aluminum track and zips to Side-Curtains above. Snaps are installed on some canvas, and can be left off of all canvas to allow for precise installation when replacing existing canvas where there are already snaps on the boat.
Installation: PVC Core Awning-Rope (sewn into canvas) , Flex-A-Rail (included as needed) , Stainless Steel Snap-Screws (included) , Snap Installation Tool (optional)
Pick your Boat:

OEM for some Baha Cruisers®, Caravelle®, Cobia®, Everglades®, Glassmaster®, Key West®, Mariah®, McKee Craft®, Palmetto Custom®, Pioneer®, Sea Boss®, Sea Fox®, Sea Hunt®, Sea-Pro® and Tidewater® , Astro®, Baja®, Bayliner®, Bombardier®, Boston Whaler®, Centurion®, Champion®, Cobalt®, Edgewater®, Four Winns®, Gecko®, Grady White®, Hurricane by Godfrey®, Mako®, Malibu®, MasterCraft®, Maxum®, Monterey®, Moomba®, Nautic Star®, Pro Sports®, PROCraft®, Regal®, Scout®, Sea-Doo®, Sea Ray®, Stratos®, Sugar Sands®, Supra®, Tahoe®, Tige®, Triton®, Triton Pontoons® and Yamaha® , Aquasport®, Astro®, Baja®, Blue Point®, BostonWhaler®, Cape Horn®, Carolina Skiff®, Century®, Champion®, Chaparral®, Chris Craft®, Correct Craft®, Crownline®, Donzi®, Duroboat®, Ebbtide®, Edgewater®, Envision®, Fincraft®, Fineline®, Fish Hawk®, Formula®, Tige®, Four Winns®, Glastron®, Godfrey®, Gulfwinds®, Hurricane® and HydraSports®, JC Pontoon®, Jettus®, Larson®, Mako®, Marada®, Mastercraft®, Metal Shark®, Monterey®, Polar®, Polaris®, Premier Marine®, Pro Line®, Procraft®, Pursuit®, Ranger®, Regal®, Rinker®, Rizebo®, Robalo®, Sailfish®, Scout®, Sea-Pro®, Sea Ray®, Seaswirl®, Seminole Marine®, Skeeter®, Skiers Choice®, SmokerCraft®, Southwinds®, Starcraft®, Stealth®, Stratos®, Suncountry®, Sundance®, Thunderbird®, Tige®, Tracker®, Triton®, Triumph®, Trophy®, Weeres Palm Beach®, Wellcraft®, World Class®, Xtreme Marine®, Yamaha®

---


Sea Ray 330 Sundancer Sunshade-Top
Factory Original-Equipment (OEM) Sunshade-Top: Sunshade-Top is the top that is mounted off of the back of the radar arch. It typically has curtains that enclose the entire rear of the boat. (click image(s) at left for larger picture)

Pick your Boat:

OEM for some Astro®, Baja®, Bayliner®, Bombardier®, Boston Whaler®, Centurion®, Champion®, Cobalt®, Edgewater®, Four Winns®, Gecko®, Grady White®, Hurricane by Godfrey®, Mako®, Malibu®, MasterCraft®, Maxum®, Monterey®, Moomba®, Nautic Star®, Pro Sports®, PROCraft®, Regal®, Scout®, Sea-Doo®, Sea Ray®, Stratos®, Sugar Sands®, Supra®, Tahoe®, Tige®, Triton®, Triton Pontoons® and Yamaha®

---


Sea Ray 340 Sundancer Full Bimini, Sunshade and Camper-Top Enclosure (Top, Side and Aft Curtains)
Factory Original-Equipment (OEM) Camper-Top: An enclosure attached to the back of a Bimini, Sunshade or Convertible Top that has its own frame to cover to the back of the boat. (click image(s) at left for larger picture)

Pick your Boat:

OEM for some Astro®, Baja®, Bayliner®, Bombardier®, Boston Whaler®, Centurion®, Champion®, Cobalt®, Edgewater®, Four Winns®, Gecko®, Grady White®, Hurricane by Godfrey®, Mako®, Malibu®, MasterCraft®, Maxum®, Monterey®, Moomba®, Nautic Star®, Pro Sports®, PROCraft®, Regal®, Scout®, Sea-Doo®, Sea Ray®, Stratos®, Sugar Sands®, Supra®, Tahoe®, Tige®, Triton®, Triton Pontoons® and Yamaha® , Aquasport®, Astro®, Baja®, Blue Point®, BostonWhaler®, Cape Horn®, Carolina Skiff®, Century®, Champion®, Chaparral®, Chris Craft®, Correct Craft®, Crownline®, Donzi®, Duroboat®, Ebbtide®, Edgewater®, Envision®, Fincraft®, Fineline®, Fish Hawk®, Formula®, Tige®, Four Winns®, Glastron®, Godfrey®, Gulfwinds®, Hurricane® and HydraSports®, JC Pontoon®, Jettus®, Larson®, Mako®, Marada®, Mastercraft®, Metal Shark®, Monterey®, Polar®, Polaris®, Premier Marine®, Pro Line®, Procraft®, Pursuit®, Ranger®, Regal®, Rinker®, Rizebo®, Robalo®, Sailfish®, Scout®, Sea-Pro®, Sea Ray®, Seaswirl®, Seminole Marine®, Skeeter®, Skiers Choice®, SmokerCraft®, Southwinds®, Starcraft®, Stealth®, Stratos®, Suncountry®, Sundance®, Thunderbird®, Tige®, Tracker®, Triton®, Triumph®, Trophy®, Weeres Palm Beach®, Wellcraft®, World Class®, Xtreme Marine®, Yamaha®

---

Factory Original-Equipment (OEM) Walk-Thru-Flap: Canvas panel fits below windshield to block wind and spray from blowing back from open bow area into cockpit area on Bow-Rider and Dual-Console boats. (click image(s) at left for larger picture)

Snaps are installed on some canvas, and can be left off of all canvas to allow for precise installation when replacing existing canvas where there are already snaps on the boat.
Pick your Boat:

OEM for some Baha Cruisers®, Caravelle®, Cobia®, Everglades®, Glassmaster®, Key West®, Mariah®, McKee Craft®, Palmetto Custom®, Pioneer®, Sea Boss®, Sea Fox®, Sea Hunt®, Sea-Pro® and Tidewater® , Astro®, Baja®, Bayliner®, Bombardier®, Boston Whaler®, Centurion®, Champion®, Cobalt®, Edgewater®, Four Winns®, Gecko®, Grady White®, Hurricane by Godfrey®, Mako®, Malibu®, MasterCraft®, Maxum®, Monterey®, Moomba®, Nautic Star®, Pro Sports®, PROCraft®, Regal®, Scout®, Sea-Doo®, Sea Ray®, Stratos®, Sugar Sands®, Supra®, Tahoe®, Tige®, Triton®, Triton Pontoons® and Yamaha®

---


Sea-Pro Factory OEM Bow Spray Dodger


Bow Spray-Dodger on Sea Fox 257CC


Key West Boats Factory Bow-Spray-Ddger
Factory Original-Equipment (OEM) Bow Spray-Dodger and Accessories: Frame and canvas mounts to front of center console boats to provide protection from spray, wind, rain, cold and sun for children, passengers, dogs or gear at the bow. (click image(s) at left for larger picture)

Call for replacement canvas for existing frame.
Pick your Boat:

OEM for some Baha Cruisers®, Cobia®, Everglades®, Glassmaster®, Key West®, McKee Craft®, Palmetto Custom®, Pioneer®, Sea Boss®, Sea Fox®, Sea Hunt®, Sea-Pro® and Tidewater® boats , Baja®, Bayliner®, Boston Whaler®, Champion®, Edgewater®, Grady White®, Mako®, Nautic Star®, Pro Sports®, PROCraft®, Scout®, Sea Ray®, Stratos® and Triton® boats , Baja®, Bayliner®, Boston Whaler®, Champion®, Edgewater®, Grady White®, Mako®, Nautic Star®, Pro Sports®, PROCraft®, Scout®, Sea Ray®, Stratos® and Triton® boats

---


Console-Cover on Sea-Pro 206CC


T-Top Console Cover for Sea-Pro factory T-Top
Factory Original-Equipment (OEM) Console and Helm Station Covers: Covers center console on boats with and without T-Tops. (click image(s) at left for larger picture)

Affixed at bottom with drawstring or snaps. T-Top models typically have zippers to go around T-Top framework. Will only fit Factory OEM T-Tops.
Pick your Boat:

OEM for some Baha Cruisers®, Cobia®, Everglades®, Glassmaster®, Key West®, McKee Craft®, Palmetto Custom®, Pioneer®, Sea Boss®, Sea Fox®, Sea Hunt®, Sea-Pro® and Tidewater® boats , Baja®, Bayliner®, Boston Whaler®, Champion®, Edgewater®, Grady White®, Mako®, Nautic Star®, Pro Sports®, PROCraft®, Scout®, Sea Ray®, Stratos® and Triton® boats , Aquasport®, Astro®, Baja®, Blue Point®, BostonWhaler®, Cape Horn®, Carolina Skiff®, Century®, Champion®, Chris Craft®, Donzi®, Duroboat®, Ebbtide®, Edgewater®, Fincraft®, Fineline®, Fish Hawk®, Four Winns®, Glastron®, HydraSports®, Jettus®, Larson®, Mako®, Marada®, Metal Shark®, Polar®, Polaris®, Premier Marine®, Pro Line®, Procraft®, Pursuit®, Ranger®, Rizebo®, Robalo®, Sailfish (Seminole Marine)®, Scout®, Sea-Pro®, Sea Ray®, Seaswirl®, Skeeter®, SmokerCraft®, Southwinds®, Starcraft®, Stealth®, Stratos®, Suncountry®, Sundance®, Tracker®, Triton®, Triumph®, Trophy®, Weeres Palm Beach®, Wellcraft® and World Class®

---


Mariah Factory OEM Sunbrella Cockpit Cover
Factory Original-Equipment (OEM) Cockpit-Cover: Snap-on canvas cover for Cockpit area of Bow-Rider, Dual-Console, Cuddy-Cabin and Express boats. Some models go to top of windshield, while others cover the windshield. (click image(s) at left for larger picture)

Snaps are installed on some canvas, and can be left off of all canvas to allow for precise installation when replacing existing canvas where there are already snaps on the boat. Tent-pole optional to place under middle to prevent sagging and water collection.
Pick your Boat:

OEM for some Baha Cruisers®, Caravelle®, Cobia®, Everglades®, Glassmaster®, Key West®, Mariah®, McKee Craft®, Palmetto Custom®, Pioneer®, Sea Boss®, Sea Fox®, Sea Hunt®, Sea-Pro® and Tidewater® , Astro®, Baja®, Bayliner®, Bombardier®, Boston Whaler®, Centurion®, Champion®, Cobalt®, Edgewater®, Four Winns®, Gecko®, Grady White®, Hurricane by Godfrey®, Mako®, Malibu®, MasterCraft®, Maxum®, Monterey®, Moomba®, Nautic Star®, Pro Sports®, PROCraft®, Regal®, Scout®, Sea-Doo®, Sea Ray®, Stratos®, Sugar Sands®, Supra®, Tahoe®, Tige®, Triton®, Triton Pontoons® and Yamaha® , Aquasport®, Astro®, Baja®, Blue Point®, BostonWhaler®, Cape Horn®, Carolina Skiff®, Century®, Champion®, Chaparral®, Chris Craft®, Correct Craft®, Crownline®, Donzi®, Duroboat®, Ebbtide®, Edgewater®, Envision®, Fincraft®, Fineline®, Fish Hawk®, Formula®, Tige®, Four Winns®, Glastron®, Godfrey®, Gulfwinds®, Hurricane® and HydraSports®, JC Pontoon®, Jettus®, Larson®, Mako®, Marada®, Mastercraft®, Metal Shark®, Monterey®, Polar®, Polaris®, Premier Marine®, Pro Line®, Procraft®, Pursuit®, Ranger®, Regal®, Rinker®, Rizebo®, Robalo®, Sailfish®, Scout®, Sea-Pro®, Sea Ray®, Seaswirl®, Seminole Marine®, Skeeter®, Skiers Choice®, SmokerCraft®, Southwinds®, Starcraft®, Stealth®, Stratos®, Suncountry®, Sundance®, Thunderbird®, Tige®, Tracker®, Triton®, Triumph®, Trophy®, Weeres Palm Beach®, Wellcraft®, World Class®, Xtreme Marine®, Yamaha®

---


Factory OEM Bow-Cover on Mariah R20.9
Factory Original-Equipment (OEM) Bow-Cover: Snap-on canvas cover for the Bow of Bow-Rider,Walk-Through-Windshield and Dual-Console boats. (click image(s) at left for larger picture)

Snaps are installed on some canvas, and can be left off of all canvas to allow for precise installation when replacing existing canvas where there are already snaps on the boat. Tent-pole optional to place under middle to prevent sagging and water collection.
Pick your Boat:

OEM for some Baha Cruisers®, Caravelle®, Cobia®, Everglades®, Glassmaster®, Key West®, Mariah®, McKee Craft®, Palmetto Custom®, Pioneer®, Sea Boss®, Sea Fox®, Sea Hunt®, Sea-Pro® and Tidewater® , Astro®, Baja®, Bayliner®, Bombardier®, Boston Whaler®, Centurion®, Champion®, Cobalt®, Edgewater®, Four Winns®, Gecko®, Grady White®, Hurricane by Godfrey®, Mako®, Malibu®, MasterCraft®, Maxum®, Monterey®, Moomba®, Nautic Star®, Pro Sports®, PROCraft®, Regal®, Scout®, Sea-Doo®, Sea Ray®, Stratos®, Sugar Sands®, Supra®, Tahoe®, Tige®, Triton®, Triton Pontoons® and Yamaha® , Aquasport®, Astro®, Baja®, Blue Point®, BostonWhaler®, Cape Horn®, Carolina Skiff®, Century®, Champion®, Chaparral®, Chris Craft®, Correct Craft®, Crownline®, Donzi®, Duroboat®, Ebbtide®, Edgewater®, Envision®, Fincraft®, Fineline®, Fish Hawk®, Formula®, Tige®, Four Winns®, Glastron®, Godfrey®, Gulfwinds®, Hurricane® and HydraSports®, JC Pontoon®, Jettus®, Larson®, Mako®, Marada®, Mastercraft®, Metal Shark®, Monterey®, Polar®, Polaris®, Premier Marine®, Pro Line®, Procraft®, Pursuit®, Ranger®, Regal®, Rinker®, Rizebo®, Robalo®, Sailfish®, Scout®, Sea-Pro®, Sea Ray®, Seaswirl®, Seminole Marine®, Skeeter®, Skiers Choice®, SmokerCraft®, Southwinds®, Starcraft®, Stealth®, Stratos®, Suncountry®, Sundance®, Thunderbird®, Tige®, Tracker®, Triton®, Triumph®, Trophy®, Weeres Palm Beach®, Wellcraft®, World Class®, Xtreme Marine®, Yamaha®

---


Mariah Factory OEM Sunbrella Mooring Cover


Factory Mooring Cover on Sea-Pro Center Console
Factory Original-Equipment (OEM) Mooring-Cover: Canvas cover for entire boat. Typically not available for boath with T-Tops (see our T-Top-Boat-Covers below). (click image(s) at left for larger picture)

Has tie-down loops typically located every 46 inches or so. Tent-pole optional to place under middle to prevent sagging and water collection.
Pick your Boat:

OEM for some Baha Cruisers®, Caravelle®, Cobia®, Everglades®, Glassmaster®, Key West®, Mariah®, McKee Craft®, Palmetto Custom®, Pioneer®, Sea Boss®, Sea Fox®, Sea Hunt®, Sea-Pro® and Tidewater® , Astro®, Baja®, Bayliner®, Bombardier®, Boston Whaler®, Centurion®, Champion®, Cobalt®, Edgewater®, Four Winns®, Gecko®, Grady White®, Hurricane by Godfrey®, Mako®, Malibu®, MasterCraft®, Maxum®, Monterey®, Moomba®, Nautic Star®, Pro Sports®, PROCraft®, Regal®, Scout®, Sea-Doo®, Sea Ray®, Stratos®, Sugar Sands®, Supra®, Tahoe®, Tige®, Triton®, Triton Pontoons® and Yamaha® , Aquasport®, Astro®, Baja®, Blue Point®, BostonWhaler®, Cape Horn®, Carolina Skiff®, Century®, Champion®, Chaparral®, Chris Craft®, Correct Craft®, Crownline®, Donzi®, Duroboat®, Ebbtide®, Edgewater®, Envision®, Fincraft®, Fineline®, Fish Hawk®, Formula®, Tige®, Four Winns®, Glastron®, Godfrey®, Gulfwinds®, Hurricane® and HydraSports®, JC Pontoon®, Jettus®, Larson®, Mako®, Marada®, Mastercraft®, Metal Shark®, Monterey®, Polar®, Polaris®, Premier Marine®, Pro Line®, Procraft®, Pursuit®, Ranger®, Regal®, Rinker®, Rizebo®, Robalo®, Sailfish®, Scout®, Sea-Pro®, Sea Ray®, Seaswirl®, Seminole Marine®, Skeeter®, Skiers Choice®, SmokerCraft®, Southwinds®, Starcraft®, Stealth®, Stratos®, Suncountry®, Sundance®, Thunderbird®, Tige®, Tracker®, Triton®, Triumph®, Trophy®, Weeres Palm Beach®, Wellcraft®, World Class®, Xtreme Marine®, Yamaha®

---


Manufactured by Westland® Industries


Red Sunbrella Exact-Fit™ Boat Cover


30-57" Adjustable Pole with Adhesive Patch
Exact-Fit™ Boat Cover: Manufactured in the USA by Westland® for over 30 years, our Exact-Fit™ Boat-Covers are custom patterned (measured, tucked, darted, and approved) by expert craftsnmen to fit the specific boat model, providing near-OEM fit at a lower, after-market price:

Patterned for a specific year, make and model of boat. A perfect, exact and tight fit for each boat,
Four Fabrics: Sunbrella® in 12 colors, Sharkskin Supreme in 3 colors, Sharkskin Plus in 10 colors and Sharkskin in one color
Includes 12 black nylon webbing straps with adjustable quick release buckles,
Loops double sewn in an offset "V" for strength and less strap twisting,
TRAILERABLE with reinforcements SEWN in (not glued) at all major wear points,
Two vents included to decrease moisture and mildew build up,
1/4" rope (NOT stretch cord) sewn into hem to pull tight to secure cover,
Up to 10 year pro-rated warranty with 24 month free replacement. (Fabric dependent, see Warranty).
Not a "Similar" boat shape and length in 1-foot increments like most after-market covers.
FREE SHIPPING to US48 and NO SALES TAX (except for South Carolina buyers),
Select from over 6,000 boat models below, then pick Fabric and Color …